Product Description
INDICATIONS:
Piles/Hemorrhoids, Bleeding Piles, Piles Pain in Anus, Piles during pregnancy,Problems after Piles Operation, Hard-Stool Constipation,Piles Pain Relief, Relieves Hemorrhoids.
Effects & Features:
Relieves pain and swelling,

Helps removing itching & irritation tendency,

Get rid of itching & Irritation,

Promotes normal bowel and removes constipation,

Natural & effective solution for Piles (all types), Fissures & Hemorrhoids,

No long listed precautions required.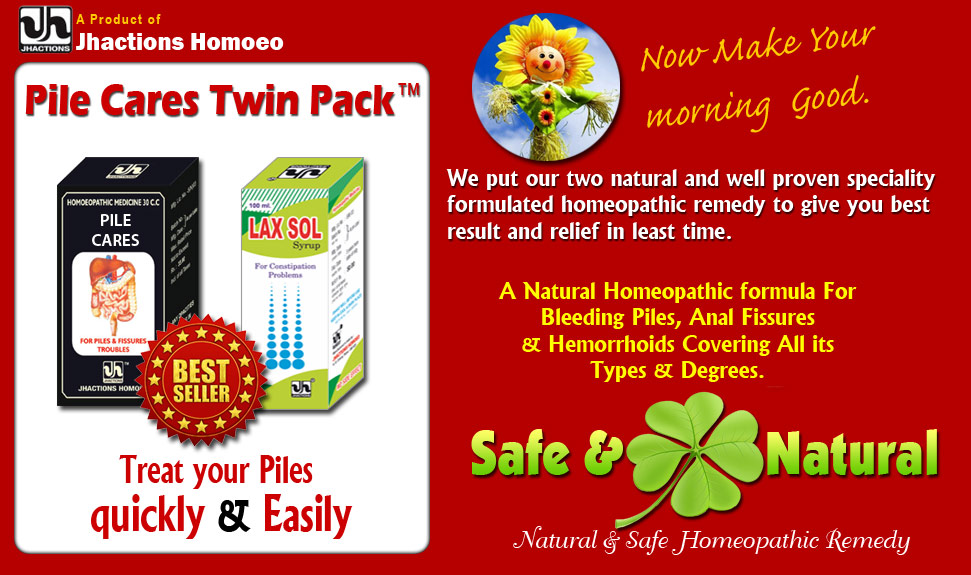 Presentation :
03 Nos Pile Cares (30 ml) + 03 Nos Lax-Sol Syrup (100 ml)
1 Box of Pile Cares Twin Pack is standard use for 30 days.
Medicine Form: Liquid
Delivery Time : 3-5 Working Days all over India.
Dosage :
15-20 drops of Pile cares in a quarter cup of water ( 3-4 times a day).
Two tea spoonful of Lax-sol syrup (3-4 times a day).
Composition:
Pile Cares Composition-
Each 5ml. contains:
Cardus M                              1x      1 ml,
Hydrasitis C                         1x      1 ml,
Hemamelis                            Q    0.6 ml,
Aloesoc                                  1x    0.6 ml,
Blumea odo                          1x     0.6 ml,
Agnus Cast                            1x    0.6 ml,
Podophy                                1x     0.6 ml.
Lax-Sol Composition-
Each 5 ml. Contains:
Trimenula Chambica                      Q      0.25 ml,
Senna                                                 Q      0.20 ml,
Ricinus Com                                     Q      0.20 ml,
Nux Vom                                            Q     0.10 ml,
Bryonia                                                Q    0.10 ml,
Mag, Sulph                                        1x     0.50 ml,
Syrup glycerene –                                     Qs
Purified water –                                         Qs
(All ingredients as per HPI)
Alcohol Contents- 10.8%v/v